The Scoop!

Sip, smile and unwine-d...
…Do you feel it? That's our summer-state-of-mind, keeping us warm as we count down the days to another JaM'n weekend at BottleRock 2020!
Can you believe it's our 5th anniversary as presenting sponsors of BottleRock Napa Valley? Thanks to you, it keeps getting better…Red Hot Chilli Peppers, Dave Matthews Band, and Stevie Nicks will hit this year's JaM Cellars Stage—we couldn't be more stoked.
Are you ready to fill your GoVinos full of your favorite JaM Cellars wines, dance at the JaMPad, bump some ButterBalls, and get glam with our glitter-girls at the CandyCabana? Of course you are! Follow JaM Cellars on Facebook and Instagram for festival updates (who will play the JaMPad this year?) and awesome ticket giveaways…we want you there with us!
6
It's winter #SundayFunday. Your favorite cousins and old friends with their new boyfriends are gathering and the Butter is flowing. For some throwback-fun that gets everyone in the spirit, head outside and build a Butter snowman…you've got everything you need right there.
Move the Butter outside with you and tuck it right into the snow to keep chilled while you work. (ButterCans work great too!) Pack the snow tight and roll, roll, roll for a strong body about 2-3ft wide. Make the head about two thirds the size and smooth out his face with hands in warm gloves. Trade coal for Butter screw-cap eyes, add a Butter yellow beanie, throw on a scarf (because baby it's cold outside) and more screw-caps for buttons on his "coat".
Your new wine friend, Frosty, is a jolly happy soul because he's had a couple glasses of wine, obviously. He's the perfect Instagram-able buddy—get him a ButterCan or pour him some JaM Cab to snap your group selfie with. Bet you cannot wait for this memory to pop up in your feed next year!
They say 2020 is the year of clear vision, it's also Butter Chardonnay's 10th birthday! So, in honor of both occasions, before we look forward, let's look back…
JaM Cellars began in 2008. You all know that JaM is actually short for John and Michele (if you haven't met them yet, check out their story) and JaM Cab was their first wine at JaM Cellars. They loved the fun and simplicity of calling their rich, berry-licious red wine, "JaM".
The story goes that John and Michele were pouring JaM Cab with friends when someone said, "Hey, you guys should make a white wine and call it Butter!" Wait, what?!...So, in 2010 John and Michele made their first 1,000 cases of Butter Chardonnay. It sold out FAST that very first year, then the second, and then the third in a row. Today, Butter Chardonnay is the #2 selling chardonnay (over $12) across America! (Check out our nifty wine finder to find your closest store)
Turns out that when you love what you do, have fun doing it, and do it to the best of your ability—you can make something incredible, that people love.
The future is hard to tell, but here's what we're anticipating the next 10 years to bring…
• More music. We love to JaM—whether that's in our hometown of Napa at the JaM Cellars wine and music studio, or at BottleRock Napa Valley music festival, or finding other ways to give you a soundtrack to sip to; we're all-in on the music front. Stay tuned-in with our friends at iHeart Radio to hear JaM Cellars radio coming soon, and follow us on social (Insta, FB, Twitter) to hear about other gigs and festivals we'll be sponsoring.
• More time with friends. JaM Cellars' reason for being is to have great tasting, reasonably priced wines that you're excited to open with friends on any day of the week. Whether it's the weekend, #WineWednesday, #WineOclock, or simply any day of the week with a "y" in it, we want to you spend it with those that we love. Cheers to that!
• More wine. Turns out that wine isn't just for glasses and dinner tables. ButterCans and CandyCans are our pick on the go, by the pool, camping, tailgating and all the other "…ings" you can dream up. The cans have been a big hit in grocery and convenience stores, and for the ultimate convenience Alexa can now tell you where to find them—just ask her to "Open JaM Cellars" (find out more here). We'll be getting out and about and bringing our wine with us, no excuses.
Thanks for being a JaMFan in the last decade and this decade to come, we can't wait to wine with you in 2020!
Come on in from the cold, cozy up to the bar at the JaM Cellars wine and music studio, and tune into the sweet sound of our weekly NO COVER JaMSessions; Fridays and Saturdays at 8PM. Beat the winter blues with scrumptious wine! Taste flights of California or Napa Valley Butter Chardonnay, California Candy Dry Rosé, or JaM Cab. Pop some Toast Sparkling (everyone gets a free splash daily at 4pm) or try the lastest JaM Cellars wine Sugar Sweet White, only here in Napa.
We're turning the keys over to John Vicino on January 24th, and you Butter believe we'll be first-row for JaM Cellars regulars like the legendary Chris Pierce and the electric Michelle Lambert. The soulful Sunny & the Blackpack will also be holding down the house on February 1st. Want the full lineup? You can always check out our events page to peek the details.
'Twas the Night Before Christmas and all through the house…the bubbles were chilling and so were we. That's because we hacked our Christmas Day prep with these super simple tips:
Make one last trip to the store. Plan ahead for the things that ALWAYS surprise us. An extra bag of ice. A box of candies for unexpected gifts. And an extra bottle (or case) of Butter for when Aunt Janie arrives early to show you how to make cranberry sauce. And don't forget cookies for Santa…
Pre-chill bottles of Toast. That extra bag of ice comes in handy here. There's never enough room in the fridge, so stock Toast in an ice-chest on the back deck. You'll want cold bubbles to kick-start your morning.
Overnight French Toast. Don't miss present-opening! This super-simple Overnight French Toast waiting for you to throw in the oven while the unwrapping party rocks on.
Stream the Santa Tracker. Cozy up and tune into the Santa Tracker to see where in the world the Big Guy is heading…you've been nice, right? Even if you haven't those cookies you bought and a glass of Butter might sway him into a leaving you a gift, or two.
Wishing you and yours a stress-free festive season, surrounded with warm hearts and full glasses!
You can't have too much wine for Holidays, so it's the perfect gift, right? Rich creamy Butter for your bestie? Tall, dark, rich and smooth JaM Cab for Mike in Accounting? Pretty and delicious California Candy Dry Rosé for Becca the best stylist ever; and Toast Sparkling for your boss (promotion please!).
But wrapping bottles can be a royal pain and end up with more "Doh" factor than "Wow" factor. And really who has time to search Pinterest for wrapping ideas when you still need to shop for that LBD for the company Holiday party…
Just follow our super-simple #HolidayHacks for Butter bottle-wrapping!
For the Fashionista: Roll up your bottle in black tissue, tuck in the bottom and accessorize with season must-have, Butter-yellow scrunchies.
For the Overachiever: Order up a supply of Bottle Sweaters to match every bottle you're bringing to the party this season.
For The Last Minute Planner: Brown paper bag and a ribbon. Yes, these are all things that you have in your junk drawer and hey, we're busy so let's get 'er done. Decorate the paper bag with a sharpie if you're feeling extra.
For The Festive At Heart: In the same vein as a new car or a puppy, an artfully placed oversized bow says "Happy Holidays, I Love You."
For The Purist: Who says this bottle needs wrapping? It's all about what's inside that counts. JaM straight!
Gifts + HolidayHacks + JaMCellars wines = #JaMisMySuperPower
Cheers to Happy Holidays
Love, JaM!
Gifts for the family, the mailman, the book club and the friendly Amazon Prime guy? What about YOU? Well, we got you…
Each day for the critical 25 days of the holidays when you are thinking about everyone else, JaM Cellars is thinking about you. Win prizes (did someone say BottleRock?), get #HolidayHacks, score some schwag and discounts, and feel totally spoiled by your favorite JaM wines. Just for being you.
The best part? You don't even have to change out of your cozy PJs to get in on the fun. Starting December 1st follow us everywhere online; Facebook, The 'gram, Twitter, YouTube, and our email list, The Scoop! to check out what's behind each of our 25 Holi-daily doors.
Tune in, tag your friends & join JaM. We'll get you through the holidays with less humbug and more jolly. #25DaysofJaM
You could have sworn that you'd neatly wound up the lights last January, but now there it is.... A HUGE tangled mess of lights at the bottom of the décor box! It's so difficult to feel festive if you're flying into a rage over never-ending loops of lights. But all you need is Butter, JaM or Toast and these super-simple steps to save the season…
Step 1. Step back..from the big ball of tangled wire, take a deep breath and a large sip of your favorite JaM wine…and smile.
Step 2. Set the scene. Light the fire, play your favorite Holiday tunes, and burn an evergreen candle.
Step 3. Create space. A large flat open space to spread out, within easy reach of the Butter.
Step 4. Strategize. Find an end and slowly and methodically work backward, keeping the free end neat and tidy as you go.
Step 5. Celebrate…as every knot untangles, and you transform your surroundings into a winter wonderland—sip, sip!
(And if you've done your best but end up looking like Houdini in a straight-jacket of Holiday wiring, it's time order a new set of lights on Amazon, open more wine and stream Hallmark Holiday movies. Cheers!)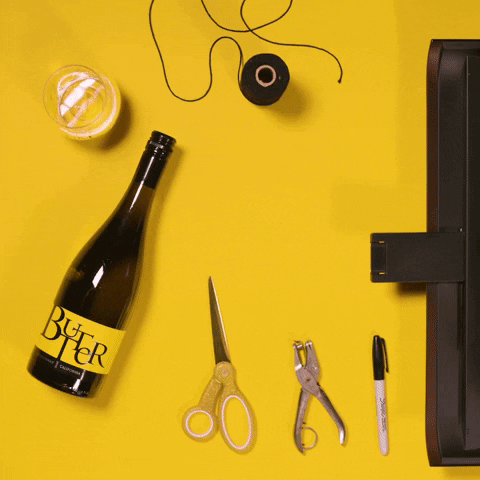 Hey Babe! Make the holidays easier on yourself and take advantage of our nifty #HolidayHacks!

CLICK TO DOWNLOAD our cute little Butter gift tag, perfect for gifting bottles of your favorite wine to other ButterLovers!
Eat Turkey. Drink Butter. Repeat.
Turkey Day is here, and every year is like diving into a pool of gravy: delicious but also slightly messy. Whether you're super chef or more of a microwave prodigy, they key to getting it all done? Just add Butter.
Every year we get a good chuckle out of some #ThanksgivingFails like these:
No matter who's coming to dinner, remember to add wine and you'll be just fine. Here are our tips for having the easiest and most delicious Thanksgiving ever with JaM by your side. #JaMIsMySuperPower
Sides Are for Guests
If you're hosting, Turkey is your mission. And the sides are on everyone else! Potlucks are the best way to gather everyone around and take the pressure off you. Try a fun Thanksgiving version of this Potluck Challenge game that gets everyone involved!
Delegate Dish Duty
Before everyone sneaks off into a post-meal snooze and football session, delegate dishes to anyone who didn't cook.
"What Can I Bring?"
If your guests aren't able to cook, wine is ALWAYS an option. Let them know to grab some ButterCans for the game of flag football before dinner and a bottle of JaM Cab to wind down in front of the fire together at the end of the night. Don't believe the naysayers: you can never have too much wine!
No such thing as perfect
Having a #ThanksgivingFail? That's what memories are made of. Just smile, sip some wine and take a photo. Please tag us, we promise to share ours too! #JaMCellars
The Scoop!
Recent Posts
January 22, 2020

January 22, 2020

January 22, 2020

January 22, 2020

December 24, 2019

December 16, 2019

December 11, 2019

December 10, 2019

November 26, 2019

November 20, 2019
Blog Categories
Our Writers
Blog Archives