The Scoop!

Sip, smile and unwine-d...
You can't have too much wine for Holidays, so it's the perfect gift, right? Rich creamy Butter for your bestie? Tall, dark, rich and smooth JaM Cab for Mike in Accounting? Pretty and delicious California Candy Dry Rosé for Becca the best stylist ever; and Toast Sparkling for your boss (promotion please!).
But wrapping bottles can be a royal pain and end up with more "Doh" factor than "Wow" factor. And really who has time to search Pinterest for wrapping ideas when you still need to shop for that LBD for the company Holiday party…
Just follow our super-simple #HolidayHacks for Butter bottle-wrapping!
For the Fashionista: Roll up your bottle in black tissue, tuck in the bottom and accessorize with season must-have, Butter-yellow scrunchies.
For the Overachiever: Order up a supply of Bottle Sweaters to match every bottle you're bringing to the party this season.
For The Last Minute Planner: Brown paper bag and a ribbon. Yes, these are all things that you have in your junk drawer and hey, we're busy so let's get 'er done. Decorate the paper bag with a sharpie if you're feeling extra.
For The Festive At Heart: In the same vein as a new car or a puppy, an artfully placed oversized bow says "Happy Holidays, I Love You."
For The Purist: Who says this bottle needs wrapping? It's all about what's inside that counts. JaM straight!
Gifts + HolidayHacks + JaMCellars wines = #JaMisMySuperPower
Cheers to Happy Holidays
Love, JaM!
Gifts for the family, the mailman, the book club and the friendly Amazon Prime guy? What about YOU? Well, we got you…
Each day for the critical 25 days of the holidays when you are thinking about everyone else, JaM Cellars is thinking about you. Win prizes (did someone say BottleRock?), get #HolidayHacks, score some schwag and discounts, and feel totally spoiled by your favorite JaM wines. Just for being you.
The best part? You don't even have to change out of your cozy PJs to get in on the fun. Starting December 1st follow us everywhere online; Facebook, The 'gram, Twitter, YouTube, and our email list, The Scoop! to check out what's behind each of our 25 Holi-daily doors.
Tune in, tag your friends & join JaM. We'll get you through the holidays with less humbug and more jolly. #25DaysofJaM
You could have sworn that you'd neatly wound up the lights last January, but now there it is.... A HUGE tangled mess of lights at the bottom of the décor box! It's so difficult to feel festive if you're flying into a rage over never-ending loops of lights. But all you need is Butter, JaM or Toast and these super-simple steps to save the season…
Step 1. Step back..from the big ball of tangled wire, take a deep breath and a large sip of your favorite JaM wine…and smile.
Step 2. Set the scene. Light the fire, play your favorite Holiday tunes, and burn an evergreen candle.
Step 3. Create space. A large flat open space to spread out, within easy reach of the Butter.
Step 4. Strategize. Find an end and slowly and methodically work backward, keeping the free end neat and tidy as you go.
Step 5. Celebrate…as every knot untangles, and you transform your surroundings into a winter wonderland—sip, sip!
(And if you've done your best but end up looking like Houdini in a straight-jacket of Holiday wiring, it's time order a new set of lights on Amazon, open more wine and stream Hallmark Holiday movies. Cheers!)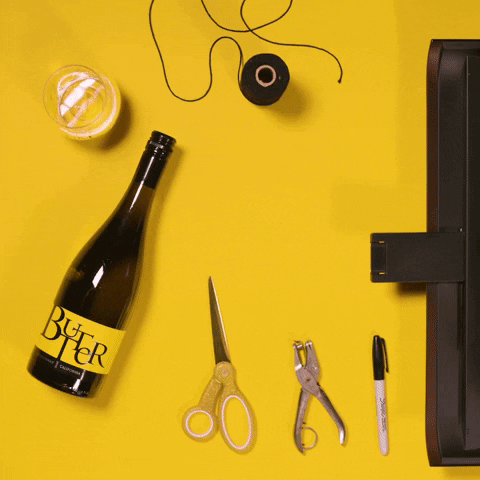 Hey Babe! Make the holidays easier on yourself and take advantage of our nifty #HolidayHacks!

CLICK TO DOWNLOAD our cute little Butter gift tag, perfect for gifting bottles of your favorite wine to other ButterLovers!
Eat Turkey. Drink Butter. Repeat.
Turkey Day is here, and every year is like diving into a pool of gravy: delicious but also slightly messy. Whether you're super chef or more of a microwave prodigy, they key to getting it all done? Just add Butter.
Every year we get a good chuckle out of some #ThanksgivingFails like these:
No matter who's coming to dinner, remember to add wine and you'll be just fine. Here are our tips for having the easiest and most delicious Thanksgiving ever with JaM by your side. #JaMIsMySuperPower
Sides Are for Guests
If you're hosting, Turkey is your mission. And the sides are on everyone else! Potlucks are the best way to gather everyone around and take the pressure off you. Try a fun Thanksgiving version of this Potluck Challenge game that gets everyone involved!
Delegate Dish Duty
Before everyone sneaks off into a post-meal snooze and football session, delegate dishes to anyone who didn't cook.
"What Can I Bring?"
If your guests aren't able to cook, wine is ALWAYS an option. Let them know to grab some ButterCans for the game of flag football before dinner and a bottle of JaM Cab to wind down in front of the fire together at the end of the night. Don't believe the naysayers: you can never have too much wine!
No such thing as perfect
Having a #ThanksgivingFail? That's what memories are made of. Just smile, sip some wine and take a photo. Please tag us, we promise to share ours too! #JaMCellars
It's No Secret. #JaMisMySuperPower
It's here, that special time of year we've all been waiting for. Yep, #HolidaySeason is upon us and we're hopping aboard the planning frenzy express. Dealing with all the prep, being the Hostess-With-The-Mostest and planning where to put Great Uncle Chuck at the Thanksgiving table can be a little…much.
But there you are, with an effortless glittery (yet chic) #UglySweater, potatoes mashed, and tree trimmed… and we're all wondering "How DOES she do it all?"
Just tell them that JaM is your superpower. It's your secret weapon for enjoying every minute of the Holidays—even the endless chores and errands…
Not-so-gourmet dinners with the In-Laws are seamless with plenty of deliciously sippable Butter Chardonnay. A juicy glass of JaM Cab is the perfect wrapping-party companion and add in a cool glass of California Candy Dry Rosé next to the bath for a little #metime.
Stock up in the wine aisle of your grocery store, JaM will be there to keep your holiday season stresses at bay! Because the reason for the season is best shared with a delicious glass of wine.
Follow along with us on Facebook and Instagram as we keep you stocked with Holiday hacks, tips and tricks up our sweater sleeves. #JaMIsMySuperPower
Stressed for the Holidays? No thanks! We're keeping things as cool as a glass of Butter Chardonnay this holiday season. Here's how we're keeping things festive, not frenzied.
Walk It Off
Feeling ready to deck your family's halls after a few (too many?) days off together? Bundle up and make a habit of a nightly or post-dinner walk. Sneak in a CandyCan on your neighborhood stroll while you're looking at everyone's Christmas lights for extra grown-up fun.
Snacks Feed A Crowd (& Keep The Hangrys away)
If that main course is taking a little longer than you were hoping, keep everyone grazing until the main event with dips and treats like this 3-step Butter Biscuit Wreath Dip or this Turkey Veggie Platter for the kids. And if you've never put a charcuterie board together, here's how! Plus no need for plates means less dishes. Fewer dishes means more time sipping JaM Cab by the fire after dinner!
Make A List & Check It 8 Times
Anyone else feel like they're running to the store three times a day? Get into planning mode and make a list before you head out the door (and stick to it!). Got Butter?
Better Together
It's the season for getting together, so what better way to tackle your holiday to-do's with friends? Make it a wine night with your besties to cross off your endless list of errands. Gift-wrapping, holiday card addressing, and cookie-baking is best shared with good company and plenty of JaM Cellars wine.
Plan ahead, find time for wine and enjoy the Holidays more than ever!
Love from,
JaM
Get an extra hour of sleep on Sunday November 3rd and feel refreshed and ready for Fall. Add in these easy tips to transition to sweater weather, one sip at a time.
One less happy hour? We think not.
We may be "losing" an hour of daylight, but that seems all the more reason to start happy hour early. When the clock strikes 6:59pm it's still Wine O'Clock, sunny or not!
Getting Hygge With It
The air's a little crisper, afternoons a little darker and the perfect time to practice the art of hygge. Snuggle up with your sweetheart under a blanket with some Butter—we're loving this Butter yellow blanket and a couple of vanilla candles to set the scene for when the sun sets a little earlier. Delicious!
Ready for Red?
If you like to switch up your sipping by season, JaM Cab is berry delicious for dark, Fall every-day indulgences. Soft smooth and sexy, just like this awesome we made for our Cab lovers.
It's HalloWINE and we're ready to dance, drink and raise some gravestones, JaM style. Here's how we're keeping it real this HalloWINE season (we're really only here for the boos):
Making A Murder Mystery
Why go out on HalloWINE when you can stay in and enjoy your stash of Butter Chardonnay? Live out your true crime fantasy and trade trick-or-treats for a murder mystery party with your besties…It was Mistress Chardonnay on the patio with the microphone!
Hall of Terror—Rock Star Edition
Need some costume inspiration? Take a cue from some of our dearly deceased rockstars who knew how to really JaM. Think ripped jeans and your vintage Nirvana tee as Kurt Cobain. Some chic 70's era glasses for John Lennon. Or tease up that hair and throw on a little cat-eye liner as Amy Winehouse. Rest in wine, queen.
We'll Drink Our Candy
No pillowcases here, our favorite candy comes as delicious dry rosé, #CaliforniaCandy. On-the-go around the neighborhood? Make sure you're well-stocked with CandyCans for a grown-up treat, no tricks!
Fire Burn and Cauldron Butter
Add a little spooky to your party by keeping plenty of ButterCans on dry ice with this handy trick turning a pumpkin into a spooky-licious cooler bowl.
Treats for them and YOU
Give hard-working spooks a haunted decorating station for cookies that'll keep their minds and hands-off tricks, while you treat yourself to a well-deserved glass of rich red…JaM Cab.
Get your JaM on and enjoy the holiday Spirits!
We still got that family-feelin' from OHANA Fest 2019! We loved rocking out and bringing the heat with the Red Hot Chili Peppers, grooving under that Big Hard Sun with Eddie Vedder and swinging to the beat in our Butter hammocks to The Strokes.
With so many other talented artists like Nathaniel Rateliff & The Night Sweats, Incubus, and more we were never without good tunes in our ears and great wine in our hands. Butter and CandyCans where the biggest hit—easy to grab-and-go to the next set, eco-friendly in honor of our beach park setting, and the perfect amount (a glass and half) so we didn't spend too much time away from the stage.
Lucky Dorothy won the iHeart Radio Detroit competition to join us and she had a blast. Thanks Dorothy! Wanna join us next year—get excited by out fun video that captured all the action. We'll call that a great weekend.
The Scoop!
Recent Posts
May 20, 2020

May 20, 2020

May 12, 2020

May 6, 2020

April 30, 2020

April 22, 2020

April 22, 2020

April 22, 2020

April 22, 2020

March 18, 2020
Blog Categories
Our Writers
Blog Archives